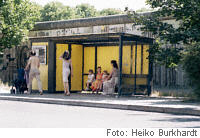 Some sections of the Berlin Wall, the Berlin Wall Memorial and an exhibition about the history of the Bernauer Strasse are the main attractions at Bernauer Strasse.
Bernauer Strasse is one of these typical streets which separates two Berlin's districts: Mitte in the East and Wedding in the West.
Today empty areas lend the Eastern part of the street its character.
The Documentation Center, situated in the former West, shows a historical overview of the Bernauer Strasse.
The exhibition is opened from Wednesday to Sunday 10 a.m.-5 p.m.
The Berlin Wall Memorial is situated in the former East and the Wall was integrated in an artwork by Kohlhoff and Kohlhoff.
Two hudge steel walls shall symbolize the infinity of the Berlin Wall.
However I met tourists there who thought that these two steel walls were part of the former Berlin Wall.
If you have time I recommend you the following tour:
Take the S-Bahn S1 or S2 to the Nordbahnhof, watch the remaining Wall sections at Gartenstrasse and view the museum and memorial.
Than you can walk along Bernauer Strasse to Eberswalder Strasse.
The empty area is the former death strip and very often the patrol track is still visible there.
After taking a rest at the Wall Park you can walk to the U2 Subway station at Schönhauser Allee or explore the charme of the old houses with many pubs at the Oderberger Strasse in the heart of Prenzlauer Berg.