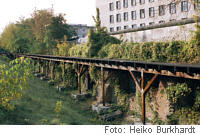 These concrete segments at Niederkirchner Strasse are one of the last "First Wall sections" of the Berlin Wall at the original place.
The relics of the former Gestapo headquarter in front of Berlin Wall sections are situated in former West Berlin while the former Reichsluftfahrtministerium (Air Ministry) is situated in the East.
The building of the Air Ministry was not much destroyed during the World War II and was later used by the East German government.
In this building the German Democratic Republic was proclaimed on October 7, 1949.
Today this building is used by the Finance Ministry.
If you have some time you should go to the entrance of the building at Leipziger Strasse and watch the mosaic work by Max Lingner from 1952 displaying the rebuilding of East Germany.

Location

Niederkirchner Strasse/Wilhelmstrasse
10 minutes to walk from Checkpoint Charlie or Potsdamer Platz

External Links

Topography of Terror Foundation