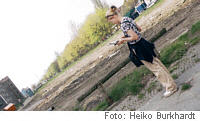 It is one of these typical streets which separates two Berlin's districts: Mitte in the East and Wedding in the West. After World War II Mitte became part of the Soviet sector and Wedding of the French sector. Signs marked the sector border but nobody didn't take care of these signs. People could move from one part of the street to the other.
The separation of the city and its streets begun in the early morning of August 13, 1961. East German army and police blocked the streets and houses in the streets and begun to built a wall. From that moment nobody could cross the street. It became unpossible to meet friends, neighbours or relatives who lived on the other site of the street.
In the Bernauer Strasse, district Mitte, the houses' walls were the border to the West and people jumped out of their flats into the West in the first days. But soon the windows were walled up and occupants had to leave their flats. Years later the houses were pulled down.
Today empty areas lend the Eastern part of the street its character.
The empty area is seen on the photograph. Until the mid 60s houses were on this area but were demolished in order to get a manageable border area.

More:
Berlin Wall Tourist Guide
Photographs Bernauer Strasse
External Links
Documentation Center Berlin Wall
Church of Reconciliation