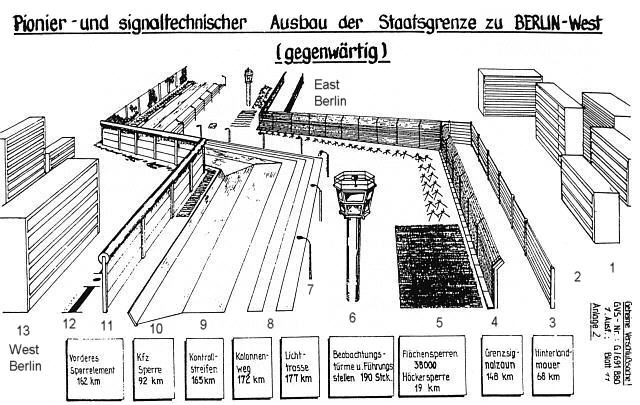 Source of Document: Berlin Wall Archive, Hagen Koch

The system of the Berlin Wall at the end of the 70s

From right to left:

1 - East Berlin
2 - Border area
3 - Backland Wall
4 - Signal fence
5 - Different kind of barriers
6 - Watch towers
7 - Lighting system
8 - Column track
9 - Control track
10 - Anti-vehicle trenches
11 - Last Wall, known as the "Wall"
12 - Border
13 - West Berlin

The whole border area was on the territory of East Berlin/East Germany. The border between East and West Berlin was after the last Wall. This last Wall is known as the Berlin Wall. However, the Berlin Wall was a complex system of walls, fences, watchtowers and barrieres The area between the Backland Wall (3) and the Last Wall (11) was the so-called death strip.
The document is an original document of the East German border troops.
I only added the numbers and West/East Berlin into the document.
Thanks to Hagen Koch for the copy of the this document.

More:

Facts
Basic facts
Escape to the West
Checkpoint Charlie
Berlin 10 years later
Timeline