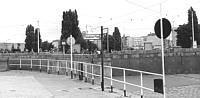 Berlin's life is pulsating at Potsdamer Platz. Every day thousands of tourists and Berliners visit this area to view the changing and growing of a new city part in the center of Berlin. Cinemas, shops, galeries and restaurants invite consumers to stay here.
However, for more than 28 years the place was dead land in the citie's heart and at night the lamps of the Berlin Wall enlighted the Potsdamer Platz area to prevent East German citizen from escaping to West Berlin.
After opening the border in 1989 the wall was very quickly demolished and only some segments of the backland wall and a watchtower survived.
In 1999, ten years later, the Berlin government demolished most part of the remaining Wall at Potsdamer Platz.

More:
Berlin Wall Tourist Guide
Photographs Potsdamer Platz
External Links

Berlin Wall at Potsdamer Platz
Photographs Potsdamer Platz